NSpanel Lovelace UI for Home Assistant
Preface
About 10 months ago Sonoff send us the NSpanel and thereafter we published our first impressions. The product was not entirely new and innovative, as there where Nextion Touch displays and 2-gang wall switches readily available, but the NSpanel combines both in a nice package thus creating a new and promising product.
As with all more complex display solutions, the succes of the product mostly depends on the available software or (open-source) community adoption. A Nextion display is not the most user-friendly display for use in a Home Automation environment. We have been closely watching the evolution of the original software and the emerging open-source community software.
We have been trying tasmota and esphome implementations, we did try the original software as well, but none of those solutions where particularly user-friendly or versatile. But then about 4 months ago, we stumbled upon the "NsPanel Lovelace UI" project by joBr99 (Johannes) which combines Tasmota or ESPHome with a Home Assistant appdeamon add-on. It allows for easy configuration in yaml, from within Home Assistant.
We haven been experimenting with this add-on for a while now and we love it! It works quit fast, reliable and it's easy to maintain. Below you'll find some instructions to get you going with this addon.
Installation
Prerequisites
In order to install the NSpanel Lovelace UI "app", you need the following installed and ready:
Installing ESPHome
After you have installed all of the above, it's time to install ESPHome on the NSpanel. If you prefer Tasmota, instructions can be found here.
To install any kind of third party firmware on the NSpanel, you may follow instructions from our NSpanel First Impressions article.
Instructions for esphome: sairon/esphome-nspanel-lovelace-ui: ESPHome component for NSPanel Lovelace UI (github.com)
Use the example .yaml config to get you going.
Install NSpanel Lovelace UI
Installing the NSpanel Lovelace UI AppDaemon Backend Application is reasonably straight forward.  The instructions can be found here.
Configure MQTT
Follow these instructions to configure MQTT. Please mind that if you are using ESPHome, you need to configure the MQTT settings in your yaml as well!
Configure the app
Configuration for the app is done via 2 files. Use Studio Code Server to edit these files.
config/appdaemon/appdeamon.yaml
Here is my config to get you going:
---
secrets: /config/secrets.yaml
appdaemon:
  latitude: 51.2
  longitude: 5.5
  elevation: 2
  time_zone: Europe/Amsterdam
  plugins:
    HASS:
      type: hass
    MQTT:
      type: mqtt
      namespace: mqtt
      client_id: "appdaemon"
      client_host: 192.168.100.101
      client_port: 1883
      client_user: "appdaemon"
      client_password: "password"
      client_topics: NONE
http:
  url: http://127.0.0.1:5050
admin:
api:
hadashboard:
and
config/appdaemon/apps/apps.yaml
nspanel_1:
  module: nspanel-lovelace-ui
  class: NsPanelLovelaceUIManager
  config:
    panelRecvTopic: "tele/nspanel_1/RESULT"
    panelSendTopic: "cmnd/nspanel_1/CustomSend"
    locale: "en_EN"
    model: "eu"
    sleepTimeout: 40
    sleepBrightness:
      - time: "6:00:00"
        value: 8
      - time: "23:00:00"
        value: 2
    screensaver:
      entity: weather.dark_sky
    cards:
      - type: cardGrid
        title: Bathroom
        key: cardgrid1
        entities:
          - entity: light.shower_led
            name: Shower light
          - entity: light.bath_led
            name: Bath light
          - entity: light.vanity_led
            name: Vanity light
          - entity: switch.floor_heating
            name: Floor heating
          - entity: sensor.temperature_sensor_bathroom
            name: Temperature
          - entity: sensor.humidity_sensor_bathroom
            name: Humidity
      - type: cardMedia
        title: Bathroom
        entity: media_player.bathroom
      - type: cardThermo
        title: Bathroom
        entity: climate.bathroom
      - type: cardEntities
        title: Test Entities Card
        entities:
          - entity: light.bath_test
As soon as you have configured both, restart the NSpanel and your display should show:

Any changes you make to the apps.yaml, will now be instant.
Configuration examples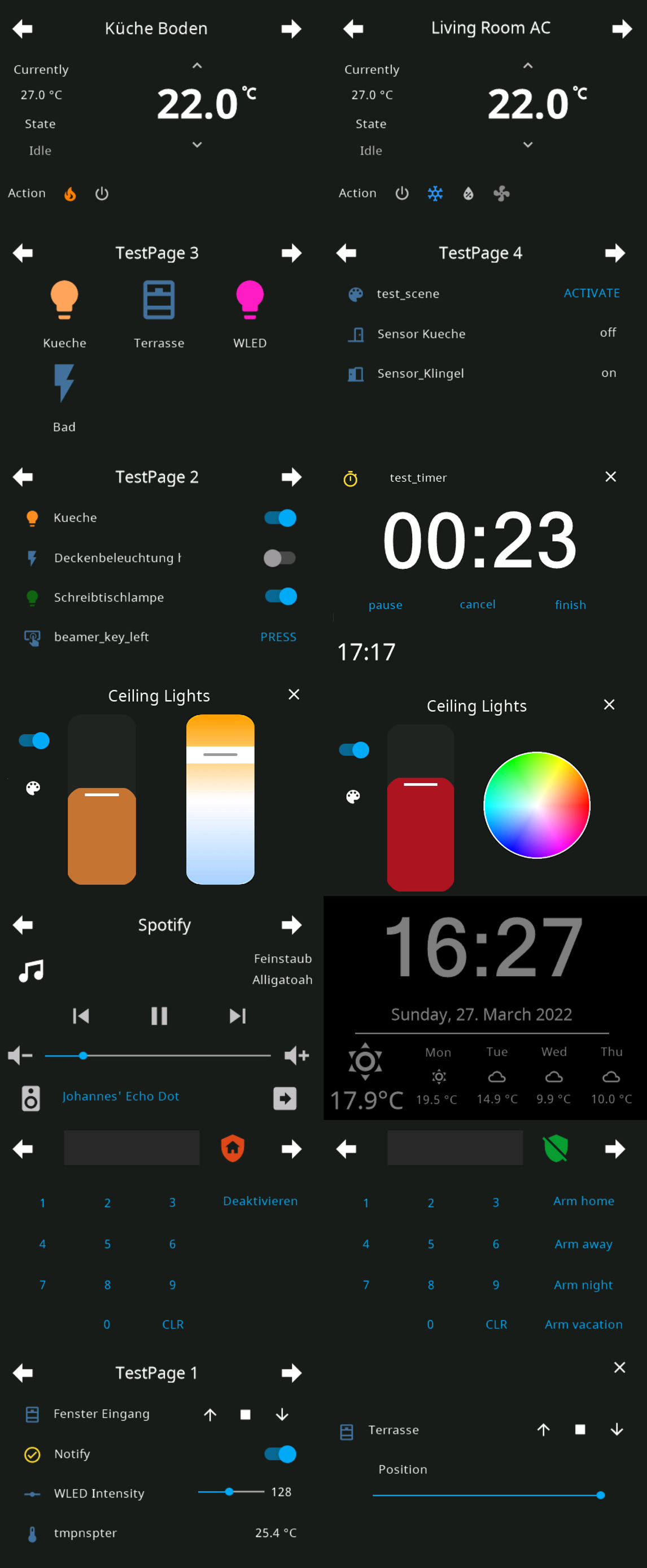 Conclusion
The NSpanel is and remains a niche product. Using the factory firmware it's not a very potent device, but using the NSpanel Lovelace UI app, makes it a very useful gadget for specific applications. Installing it all can be a bit challenging, but once installed it's a breeze to configure, straight from the yaml in Home Assistant.
Have fun!